Donald Trump has warned Iran of consequences "the likes of which few throughout history have ever suffered" if it threatens the US.
In a direct message to Iranian President Hassan Rouhani, the US president wrote in capital letters: "NEVER, EVER THREATEN THE UNITED STATES AGAIN OR YOU WILL SUFFER CONSEQUENCES THE LIKES OF WHICH FEW THROUGHOUT HISTORY HAVE EVER SUFFERED BEFORE.
"WE ARE NO LONGER A COUNTRY THAT WILL STAND FOR YOUR DEMENTED WORDS OF VIOLENCE & DEATH. BE CAUTIOUS!"
Mr Trump sent his tweet hours after US secretary of state Mike Pompeo issued a highly critical broadside timed to mark the imminent 40th anniversary of the Iranian revolution.
On Sunday, Iran's ISNA news agency reported Mr Rouhani as urging Mr Trump to "make peace" with Iran.
The report quoted Mr Rouhani as saying that "American must understand well that peace with Iran is the mother of all peace and war with Iran is the mother of all wars".
The Iranian leader warned Mr Trump to stop "playing with the lion's tail" and threatening Iran, "or else you will regret it".
Iran is facing increased US pressure and looming sanctions after Mr Trump's decision to pull out of the 2015 international deal meant to prevent Tehran from developing nuclear weapons.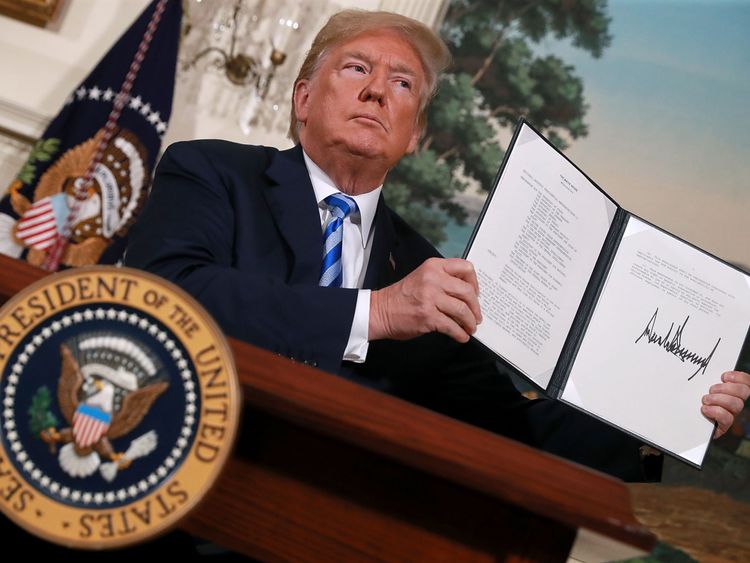 Washington has also been accused of posting propaganda on social media aimed at stirring up unrest in Iran.
A review of the US State Department's Farsi-language Twitter account and its ShareAmerica website reveals a number of posts critical of Tehran over the last month.
Mr Rouhani also scoffed at Mr Trump's threat to halt Iranian oil exports, saying: "Anyone who understands the rudiments of politics doesn't say 'we will stop Iran's oil exports'.
"We have been the guarantor of the regional waterway's security throughout history."
Mr Rouhani has suggested Iran may block Gulf oil exports if its own trade is disrupted, a proposal backed by the country's supreme leader Ayatollah Ali Khamenei.
Iran's oil exports could fall by as much as two-thirds by the end of the year because of new US sanctions, putting oil markets under huge strain amid supply outages elsewhere.