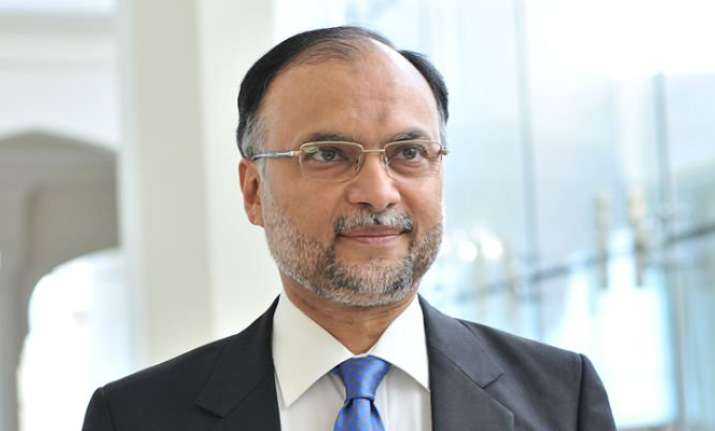 Pakistan's Interior Minister Ahsan Iqbal on Sunday survived an assassination attempt after an armed man opened fire on him during a rally in Narowal's tehsil Kanjrur, injuring his right shoulder.
The assailant, aged between 20-22 years, shot at the interior minister on his right shoulder as he was sitting in his vehicle. Iqbal was then immediately rushed to a hospital after the incident.
His son, Ahmad Iqbal, also confirmed the attack and said that his father was out of danger.
The attacker fired with a 30-bore pistol from a distance of around 18 metres. But the security forces responded immediately and apprehended him, District Police Officer Imran Kishwar said.
However, the reason behind the attack was not immediately known.
Punjab Chief Minister Shahbaz Sharif described it as an "assassination attempt", Dawn News reported.
Punjab government spokesman Malik Ahmad Khan confirmed the attack and arrest of the attackers. He said the minister is stable but being shifted to Lahore.
"Police are investigating the attack and we will know how he (attacker) was able to reach so close to the minister," he said.
He said that the attacker was initially identified as Abid Hussian and his age was said to be between 20-22 years. He is said to be a resident of Narowal.
Rana Manan, a lawmaker of Punjab assembly, said that Iqbal was about to sit in his vehicle when the attacker fired at him.
The attack on the interior minister highlights the issue of security of high-profile politicians ahead of the elections scheduled to be held after June.