Indian actress Priyanka Chopra has been accused of being a traitor after the US TV drama she appears in featured a story about Indian nationalists framing Pakistan.
Chopra, who is a close friend of Meghan, Duchess of Sussex and attended the royal wedding, plays FBI agent Alex Parrish in ABC crime drama Quantico.
In an episode called The Blood Of Romeo, aired on 1 June, it is initially thought that Pakistanis are planning a terror attack.
Their alleged goal is to thwart forthcoming peace talks about the disputed territory of Kashmir.
But when Chopra's character holds up Hindu prayer beads as evidence that an Indian nationalist is planning to detonate a nuclear bomb in New York, it becomes clear that Pakistan is being framed.
Despite it being fiction, the episode has led to outrage.
Posters have been printed saying: "Priyanka Chopra is a traitor, send her to Pakistan."
There have also been calls to boycott Chopra's work and the brands she endorses, including Samsung.
The 35-year-old starred in dozens of Indian films before moving to the United States, and is a major star in her home country.
Neha S tweeted that the "entire episode was not just an attack on Hindus but also an attack on India", adding: "Shame on Priyanka Chopra for even thinking such a storyline was acceptable."
"The myth of Hindu terror, by a fake story, enters American television with the help of Priyanka Chopra," tweeted a Hindu scholar based in the United States, David Frawley.
He continued: "Would any Pakistani actress betray Pakistan or Islam the way she betrays India and Hinduism?"
Tweeting her response, Chopra said she was "extremely saddened and sorry that some sentiments have been hurt by a recent episode of Quantico".
"That was not and would never be my intention," she added.
"I sincerely apologise. I'm a proud Indian and that will never change."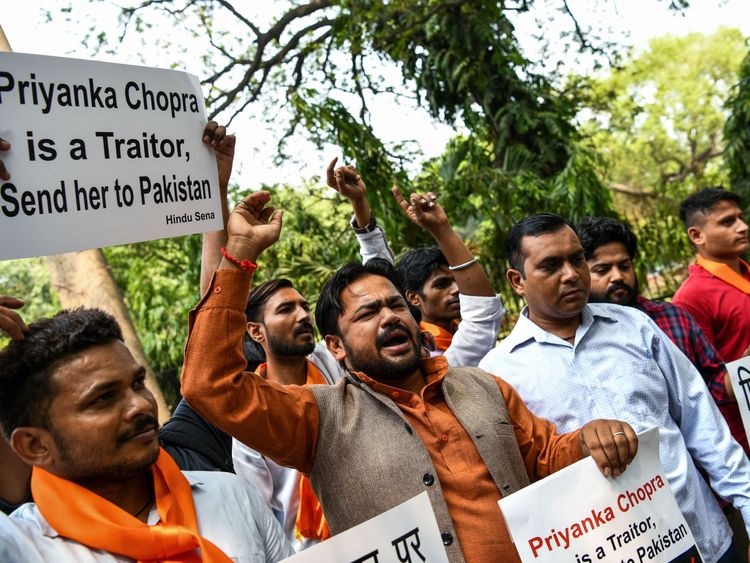 ABC said a lot of emotion had been "unfairly aimed at Priyanka Chopra, who didn't create the show. Nor does she write or direct it".